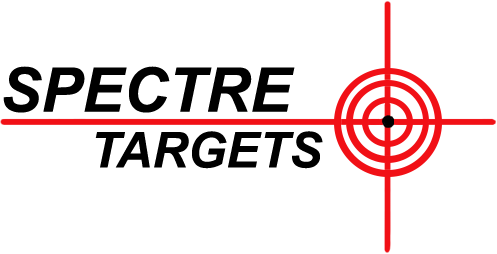 ---
SHOOTING DISTANCE FOR STEEL TARGETS
25 Yards
.22 LR, 9mm, .380, .32, .40 SW, .45acp
50 Yards
.357 mag, .38 +P, .45 Colt, .44 Spl, .44 mag, 10mm
100 Yards
.22 mag, .223/5.56mm, 6.5 Grendel, 6.8 SPC, 5.7x28 .308/7.62x54, .30-30, 7.62x39, .243, .45-70, .204 Ruger
200 Yards
.308 LR, .30-06, .270 Win, .22-250
300 Yards
300 Win Mag, .300 Norma, .338, .50 BMG
Shotgun
Shotgun w/ lead bird shot - 15 yards
Shotgun w/ 00 lead buck - 50 yards
Shotgun w/ lead slug - 100 yards
---
FAQs
TARGET HARDNESS
The hardness of a target measures the amount of force that can be applied to the steel before deformation or damage occurs. Hardness is most commonly measured by a Brinell number ranging from 150 on the soft side, up to 700 on the hard extreme. While the average target is made of the cheaper steel with a Brinell number of 265, our targets have a Brinell number of 500 and can withstand repeated .308 rounds without damage. Harder steel target will last longer and a harder steel target is safer.
ANGLE OF DEFLECTION
As the bullet shatters on impact, the majority of the fragments spread out at 20-degree angles from the plate surface. This area, to the left and right of the target is referred to as the "splatter zone" a full 95% of all bullet fragments can end up here. The remaining area, including the shooter, is the "safety zone," and receives only a small portion of bullet fragments. Although the safety zone is not absolutely safe, with proper protection, normal training can be conducted without risk.
TARGET PLACEMENT
Even with the best targets and bullets, training can be dangerous if targets are placed incorrectly. Metal targets should not be placed parallel to each other without a barrier between them. Splatter from one target could ricochet off another target (secondary splatter), and return to the shooter. Metal targets that are used in a grouping pattern should be staggered so as not to be in the 20 degree angle of deflection splatter zone of another target.
---
RULES FOR SHOOTING ON STEEL TARGETS:
WARNING:
* Shooting Steel Can Be Dangerous*
1. Shooter and spectators always wear ANSI approved eye protection and proper hearing protection
2. Always wear a hat with a brim large enough to protect the front of the head and face and long pants and long sleeves are recommended
3. Never use steel targets for purposes outside their design
4. Never use ammunition that exceeds the target's design
5. Minimum recommended distance with a handgun and standard lead ammunition is 7 yards
6. Minimum recommended distance with a rifle is 100 yards unless using specific rifle targets
7. Minimum recommended distance with shotgun slugs is 100 yards
8. Never use armor-piercing, steel-core, or other hardened ammunition
9. Never use steel shot, pellets, BB's, or other air gun projectiles
10. Never shoot on steel targets that have been damaged or deformed in any way
Disclaimer
THESE PRODUCTS ARE INTENDED FOR A SPECIFIC USE AS PART OF AN INHERENTLY DANGEROUS ACTIVITY. THESE PRODUCTS MUST BE USED IN THE INTENDED MANNER ONLY AND IN DIRECT COMPLIANCE AND ACCORD WITH THE ENCLOSED INSTRUCTIONS. EVEN SO, INJURY MAY OCCUR. DUE TO THE INHERENTLY DANGEROUS NATURE OF THE ACTIVITY, NO WARRANTY OF THESE PRODUCTS IS GIVEN OTHER THAN THEY WILL PERFORM AS DESIGNED IN THEIR INTENDED USE. ANY ALTERATION OF THESE PRODUCTS OR THEIR USE SHALL VOID ALL WARRANTIES EXPRESSED OR IMPLIED. OTHER THAN THE FOREGOING, THERE ARE NO WARRANTIES OR GUARANTIES GIVEN NOR ANY LIABILITY ASSUMED BY THE MANUFACTURER IN THE USE OF THESE PRODUCTS. ALL RISK OF INJURY IS ASSUMED BY AND SHALL PASS TO THE PURCHASER OF THESE PRODUCTS OTHER THAN THOSE ITEMS SPECIFICALLY STATED ABOVE.